Trials have begun in the northern Bauchi state of Nigeria for 11 men arrested recently under the country's new anti-gay law, the BBC reports: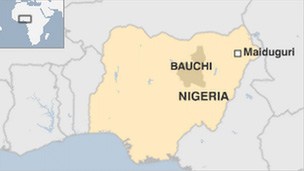 An Islamic court in Nigeria's northern state of Bauchi has put on trial 11 Muslim men accused of being homosexuals in violation of their religion, a religious leader has told the BBC. A 12th person arrested – a Christian – would be tried under secular law, a BBC reporter says. Under Islamic law, a person can be sentenced to death by stoning if convicted of homosexuality.
The BBC adds:
Jibrin Danlami Hassan, the commissioner of Bauchi state's Sharia Commission, said the alleged homosexuals were arrested by residents of Bauchi city. They were handed to the Islamic police force, which interrogated them, he said.
"They accept that they are doing that dirty game," Mr Hassan said.
Ms Aken'Ova said some of those arrested had been beaten up and tortured, but Mr Hassan denied this.
Click HERE for our earlier list of items: 16 Things You Should Know About the Anti-Gay Situation in Nigeria.
UPDATE: A new AP report:
Amnesty International says Nigerian police have arrested 10 people suspected of being gay in four majority Christian southern states in the highly religious nation. It says the arrests follow President Goodluck Jonathan's signing of a law outlawing gay organizations and meetings as well as same-sex marriage.
So far there have been reports of 38 arrests total.