NBA player Jason Collins will sit in First Lady Michelle Obama's box at the State of the Union address on Tuesday night, according to the White House.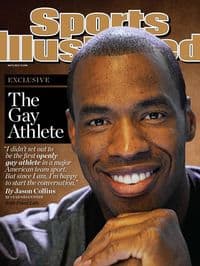 Writes the White House in its announcement:
While at Stanford, Jason Collins was selected as an All American, named the NCAA's "Big Man of the Year," and earned an appearance in the Final Four. After graduating in 2001, Collins was drafted into the NBA and has since played for six teams including the Celtics, whose then coach Doc Rivers said of Collins: "He's the best. He literally is one of the best guys I've ever had in the locker room, player or coach." In his 12 years in the league, Collins' teams earned 9 trips to the playoffs including 2 NBA Finals appearances. In April 2013, Collins became the first male player in major American team sports to come out openly as gay. The President expressed his gratitude to Collins for his courageous announcement through an article Collins penned himself. The President said he "couldn't be prouder" of Collins, recognizing this as a point of progress for the LGBT community, and one more step in America's goal to treat everyone fairly and with respect. Collins is 35 and lives in Los Angeles, California.
Dr. Jill Biden, and Valerie Jarrett, Senior Advisor to the President will join them.
Also guests of the First Lady are Carlos Arredondo and Jeff Bauman (Boston, MA) ,Survivors of the Boston Marathon Bombing; Gary Bird, (Moore, OK) Fire Chief; Joey Hudy (Anthem, AZ), "Maker" and Intel Intern; and Kathy Hollowell-Makle, (Washington, DC), 2013 DCPS Teacher of the Year.