More ugliness out of Nigeria, via the AP: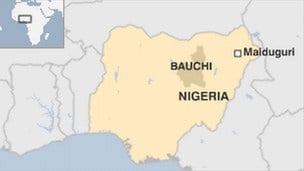 Thousands of protesters massed outside the Shariah court in Nigeria's northern city of Bauchi, throwing stones into the building to demand the speedy convictions of seven men arrested for belonging to gay organizations.
Security officials shot into the air to halt the protest and the judge quickly halted the trial. He ordered the seven be returned to the safety of the prison.
This is the same court which convicted a man last week and sentenced him to 20 lashes.
Dozens more arrests have been reported across the nation.