The activist group Queer Nation reports, via press release, that it disrupted an appearance by figure skater Brian Boitano last night. Boitano recently dame out of the closet after being selected by President Obama as part of the official U.S. delegation to the Sochi 2014 Winter Games.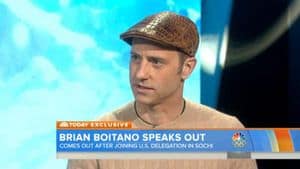 Queer Nation writes:
Two members of Queer Nation confronted three-time Olympian Brian Boitano tonight, demanding he speak out against Russia's recently enacted anti-LGBT laws when he represents the U.S. at the Olympics next month.

Boitano, who is one of three openly gay men and women chosen by President Barack Obama for the U.S. Olympic delegation, was appearing at New York's Rubin Museum of Art in Chelsea as part of "Brainwave: Mind Over Matter," an ongoing series that pairs men and women prominent in their various professions with psychologists, psychiatrists, and neurologists to discuss how the mind and brain work.

During his introduction of Boitano, Tim McHenry, the Rubin's director of public programs and performance, spoke with admiration about how Brian Boitano had become "a courageous champion of human rights and artists."

"When did he do that and what is it that he said?" shouted Duncan Osborne, one of the protesters. "He's going to a country with a record of abusing human rights, especially the rights of gay men and women, and he has yet to speak out about it," Osborne continued.

Boitano has as yet said nothing against Russia's anti-LGBT laws, instead insisting that athletes and spectators respect the laws of the country they will be visiting. Tennis great Billie Jean King, who has also been chosen to represent the U.S. in Sochi, has been somewhat vocal about her disapproval of the Russian laws.

"Stand up and tell us what you are going to do what are you going to say in Russia," yelled Jamie Bauer," the other protester from Queer Nation. Boitano remained seated and silent and refused to acknowledge the protesters.

"Two members of Pussy Riot were imprisoned for protesting their government's human rights record, and when they were granted amnesty ahead of the Olympics promptly denounced the amnesty and organized a protest," said Bauer after the protest. "We haven't seen nearly that kind of courage from Brian Boitano, who has much less to risk."

The audience was uniformly hostile to the protesters, and many booed. Two audience members attempted to remove Osborne but backed away when he threatened to have them arrested. The two Queer Nationals were eventually led peacefully out of the room by security guards.

"You're a coward," Osborne yelled repeatedly as he was escorted away.
No pictures or footage of the confrontation have surfaced yet.