The rainbow flag has been removed from the top of West Hollywood City Hall after months of debate, the L.A. Times reports: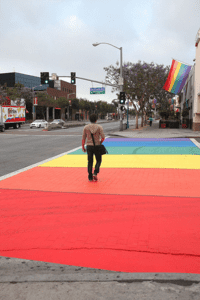 About 40% of West Hollywood's population identifies as gay or lesbian, according to city surveys. There are rainbow-colored crosswalks at Santa Monica and San Vicente boulevards. And four of the five city council members are gay men.
But city council members in November unanimously voted to maintain the city's practice of displaying only the United States, California and city of West Hollywood flags on public facilities.
Councilman John Duran said the city is shared by gay, lesbian, bisexual, transgender and heterosexual people and that the flag's hanging above City Hall was inappropriate, even if the city was founded largely on gay rights.
West Hollywood "belongs to all of us," Duran said at one meeting. "It's not just a city of gay men. It belongs to heterosexual people as well, and City Hall belongs to everybody in this community, gay or straight, and let's not ever give the impression that City Hall has become exclusive to only one part of the West Hollywood community."
The flag has been on top of the building since June at the suggestion of resident Larry Block after a city councilman agreed with his sentiment, which he repeated to the LAT:
"West Hollywood is a beacon of hope for gays and lesbians throughout the world," he said. "When tourists come into town, they're so proud of the fact that we're that special place for the LGBT community. … The rainbow flag is an inclusive symbol, not exclusive."
Block says because Duran and Prang are running for county offices the removal of the flag was a political move.