'Glee' is moving entirely to NYC for the remainder of the season, Fox entertainment's chairman confirmed on Monday, EW reports: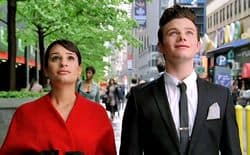 The move has been rumored for a few months, but this marks the first confirmation from the network. Reilly also confirmed once again that next season, the show's sixth, will be the last for the musical comedy.
He also said there would be shake-ups in the cast.
"Some are going to be graduating and moving; creatively, it would be ridiculous that everybody moves to New York," he said. "There will be some that will graduate and move on and they'll arc back in when we do special episodes. They'll always be a part of it… But for this season, there will be a graduation, several of the cast members will move on and a few others will go to New York."
There were rumors a few months back that the show would be moving Kurt Hummel to Russia. No further word on that.