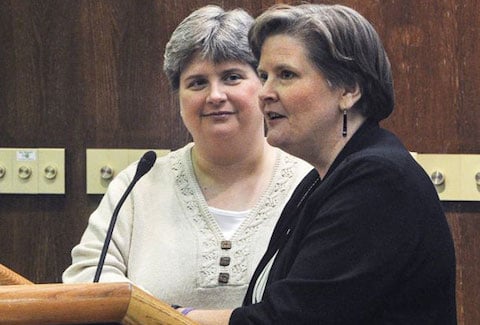 U.S. District Judge Terence Kern has ruled Oklahoma's ban on same-sex marriage is unconstitutional but the ruling has been stayed pending appeal, HRC reports:
"Judge Kern has come to the conclusion that so many have before him – that the fundamental equality of lesbian and gay couples is guaranteed by the United States Constitution.  With last year's historic victories at the Supreme Court guiding the way, it is clear that we are on a path to full and equal citizenship for all lesbian, gay, bisexual and transgender Americans.  Equality is not just for the coasts anymore, and today's news from Oklahoma shows that time has come for fairness and dignity to reach every American in all 50 states."
 
Two plaintiff couples, Mary Bishop and Sharon Baldwin and Gay Phillips and Susan Barton, filed their case, Bishop v. Oklahoma, in the U.S. District Court for the Northern District of Oklahoma in November 2004.  Lead counsel in the case are Don Holladay and James Warner of the Oklahoma City law firm Holladay & Chilton PLLC.   
The NYT adds:
The state's ban on marriage by gay and lesbian couples is "an arbitrary, irrational exclusion of just one class of Oklahoma citizens from a governmental benefit," wrote Judge Terence C. Kern of United States District Court for the Northern District of Oklahoma, in Tulsa, deciding a case that had languished for nine years. The amendment, he said, is based on "moral disapproval" and does not advance the state's asserted interests in promoting heterosexual marriage or the welfare of children.
Towleroad reported on the case in December, while Oklahoma was still stalling on the ruling, nine years after the lawsuit was first filed.
Towleroad's Sean Mandell wrote, back in August, that the case was revived after the SCOTUS ruling on DOMA:
A 2004 challenge to the state's ban on same-sex marriage has been in a holding pattern for over a year while the federal court in Tulsa waited for the outcome of several high profile gay marriage cases including Hollingsworth v. Perry and United States v. Windsor. The couples who first brought the suit, Mary Bishop and Sharon Baldwin and Susan Barton and Gay Phillips, are challenging not only Oklahoma's ban on same-sex marriage but also a crucial part of DOMA not addressed in the Supreme Court's recent landmark ruling, the section that "allows states not to recognize gay marriages performed in other states."