The Minnesota Vikings announced today that it had hired attorneys to lead an investigation into claims by former punter Chris Kluwe, who said in an article published on Deadspin that he was released from the team because of his gay activism.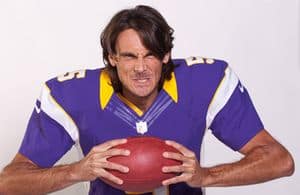 Said Kluwe in the piece:
It's my belief, based on everything that happened over the course of 2012, that I was fired by Mike Priefer, a bigot who didn't agree with the cause I was working for, and two cowards, Leslie Frazier and Rick Spielman, both of whom knew I was a good punter and would remain a good punter for the foreseeable future, as my numbers over my eight-year career had shown, but who lacked the fortitude to disagree with Mike Priefer on a touchy subject matter.
Kluwe also claimed that Priefer unleashed a homophobic rant in his presence, saying, "We should round up all the gays, send them to an island, and then nuke it until it glows."
Wrote the Vikings in today's press release:
Former Chief Justice of the Minnesota Supreme Court Eric Magnuson and former U.S. Department of Justice Trial Attorney Chris Madel will lead the investigation.
"It is extremely important for the Vikings organization to react immediately and comprehensively with an independent review of these allegations," said Vikings Owner/President Mark Wilf.
Magnuson, who is currently a partner at Robins, Kaplan, Miller & Ciresi, L.L.P. and teaches at the Humphrey School of Public Affairs, is highly-regarded in Minnesota and throughout the country. He has more than 35 years of practice, including over two years (2008-10) as the Chief Justice of the Minnesota Supreme Court.
Madel is the Chair of Robins, Kaplan, Miller & Ciresi, L.L.P.'s Government and Internal Investigations Group, and has led numerous high-profile investigations, including the extensively publicized internal investigation of the Fiesta Bowl in Phoenix, Arizona. Madel has also been selected as the Minnesota Lawyer's "Attorney of the Year" for 2011, 2012, and 2013, and is the first attorney to win the award for three consecutive years.
"This is a highly sensitive matter that we as an organization will address with integrity," said Vikings Vice President of Legal Affairs and Chief Administrative Officer Kevin Warren. "Eric and Chris have stellar reputations in both the local and national legal community. They have handled numerous cases involving a wide range of issues, and we are confident they will move swiftly and fairly in completing this investigation."
Interviews have reportedly begun, according to the organization.