Figre skater Johnny Weir, who is going to Sochi as an NBC correspondent, told Reuters he's "in the crossfire" between LGBT activists and his devotion to the Olympics: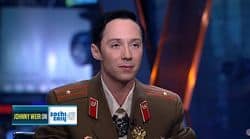 "Those who want me to be more gay than I am are going to be disappointed and those who want me to be less gay than I already am will be disappointed. My statement is simply being there and being gay and showing the world and the Russian government that there is nothing weird or wrong with me and that there is nothing weird or wrong with the LGBT community in your country so we shouldn't be treated as pariah….
…I've been called so many names and been hated on so many fronts, and been called a Russian spy and all of these wild and outlandish things… I definitely feel in the crossfire. I feel that in many ways I cannot give the right answer that everyone wants to hear. You can't please everyone. The only people I am worried about pleasing is the Russia LGBT members that are living under this scrutiny on a daily basis and have a hard life for it. I worry about them and I want to be there (for them). Activism should be ongoing until the laws of equality are in place and gays are not scrutinized or thrown into prison simply for being gay in public in front of children."
Full interview here…