Russian President Vladimir Putin was asked about the country's "ban on gay propaganda" while reviewing preparations for the upcoming Olympic Games in Sochi, The Guardian reports: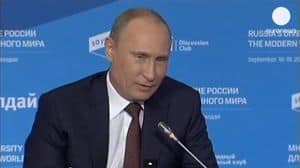 "We do not have a ban on non-traditional sexual relationships," said Putin in comments reported by Russian agencies. "We have a ban on the propaganda of homosexuality and paedophilia. I want to underline this. Propaganda among children. These are absolutely different things – a ban on something or a ban on the propaganda of that thing."
Putin also added that Russia was more liberal than some other countries, claiming that in certain US states homosexuality was still punishable by law.
"We are not forbidding anything and nobody is being grabbed off the street, and there is no punishment for such kinds of relations," said Putin. "You can feel relaxed and calm [in Russia], but leave children alone please," said Putin.
The questioning was apparently prompted as Putin met with volunteers, who will be wearing outfits designed with rainbow colors.