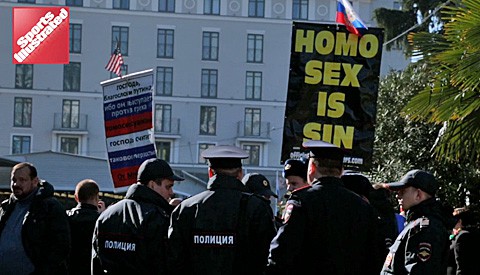 On Friday we reported that Sports Illustrated had filmed some anti-gay demonstrators freely preaching against gays outside the Sochi train station with police standing idly by. At the same time in other places in Russia LGBT activists were being arrested and beaten.
The WSJ has identified the anti-gay protesters:
One of the three men in Sochi—Larry Craft from Rochester, N.Y.—said that earlier in the day, they had spent a few hours at the police station after their banner got them in trouble. It read, "God bless Putin for his stance on homosexuals." He said that they were allowed to return to the sidewalk if they promised to put the banner away.
They didn't reserve their ire exclusively for homosexuals. Mr. Craft explained that the three men were speaking out against everything from abortion and sex addiction, to atheism, drunkenness, and "church gossips." His position was also laid out on his sweatshirt.
They're on their way to Mardi Gras in New Orleans after Sochi. Craft has been arrested in New Orleans.