Crack-smoking Toronto Mayor Rob Ford has asked the city manager to take down a Gay Pride flag that was raised at City Hall in solidarity with LGBT athletes at the Sochi Olympics, BlogTO and the AP report: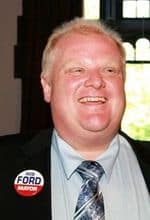 Blog TO:
"This is about the Olympics, this is about being patriotic to your country," Ford said. "This is not about sexual preference." The mayor says he wants it replaced with a Canadian flag.
The rainbow flag was installed on the courtesy flagpole outside City Hall with the help of Deputy Mayor Norm Kelly. The pole is reserved for flags that promote "activities such as fund-raising drives, multi-cultural events and national or independence days," according to the city website.
Kelly called the Pride flag "a statement that we're not afraid to stand up for the rights and privileges that are being abused in other parts of the world."
Toronto Mayor Rob Ford says he does not support having the rainbow flag flying at city hall during the Sochi Games, and initially ordered to have it taken down. But after meetings with other councillors, Ford has reportedly agreed to let the flag fly.