The United States Conference of Catholic Bishops, National Association of Evangelicals, The Church of Jesus Christ of Latter-day Saints, the Ethics & Religious Liberty Commission of the Southern Baptist Convention and Lutheran Church — Missouri Synod filed a 42-page amicus brief to the 10th Circuit Court of Appeals on Monday arguing in support of Bans on gay marriage in Oklahoma and Utah.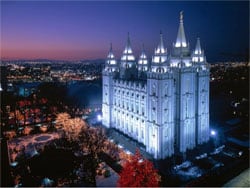 The filers argued that they aren't against same-sex couples:
"Our faith communities bear no ill will toward same-sex couples, but rather have marriage-affirming religious beliefs that merge with both practical experience and sociological fact to convince us that retaining the husband-wife marriage definition is essential," the brief explains.
The AP adds:
The coalition struck back at the notion that opposing gay marriage makes one anti-gay, irrational or bigoted.
"The accusation is false and offensive," it says. "It is intended to suppress rational dialogue and democratic conversation, to win by insult and intimidation rather than by reason, experience, and fact."
…Shannon Minter, legal director for the National Center for Lesbian Rights, said Monday that religions will always be free to choose which marriages they perform.
But in a statement, Minter added that "the state cannot exclude any group of people from a fundamental right based on religious views held by some. Our society is strengthened when the law both supports all families and protects the freedoms of conscience and belief."
Download the full brief here (PDF).