Dutch speedskater Ireen Wüst, one of seven openly gay and/or bisexual athletes at the Sochi Games, won a  gold medal on Sunday, the AP reports: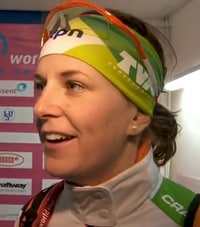 Wüst claimed a speedskating gold medal at her third straight Winter Olympics, knocking off defending champion Martina Sablikova in the 3,000 meters Sunday. That made the Netherlands 2-for-2 at Adler Arena, the world's dominant speedskating nation living up to his billing through the first weekend in Sochi.
''Seventeen million Dutch wanted me to win,'' said Wüst, who painted her nails in the colors of the Dutch flag. ''Now the extreme pressure is off, and I can win more.''
Wüst is the first out athlete to medal.
Wüst says that Vladimir Putin "cuddled" her:
Dutch speedskater Ireen Wust told Dutch national broadcaster NOS, "I got a cuddle from him," at a party held in her honor. "He congratulated me and asked if everything was OK in Russia and I congratulated him on (Russian speedskater) Olga Graf, of course, for her third place (in the 3,000 meters). He was happy to see me, but then he had to leave again. But I cuddled him."
John van Vliet, a spokesman for the Netherlands' Olympics Committee, said Putin gave Wust a quick hug.
"He was on the way out. He congratulated her, hugged her, and wished her the best," van Vliet said.