Police in Jordan have arrested 10 people at a party hall in east Amman who were reportedly at a 'gay and lesbian' gathering, AFP reports: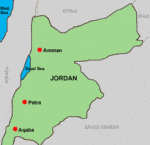 "The administrative governor of the Marka area, Adnan Qatarneh, ordered the arrest of the 10 gays and lesbians after they held a reception at a party hall on Wednesday to get to know each other," he told AFP.
"The arrests were made to prevent a disturbance of the peace," he added, without elaborating.
Homosexuality is not illegal in the conservative desert kingdom, although it is widely seen to be unacceptable.
"There are no laws in Jordan to deal with homosexuality cases," another security official said. "It is up to administrative governors to decide how to handle such issues, including any period of detention."