Roy Simmons, a former offensive lineman for the Giants and the Washington Redskins who came out of the closet after his career had ended, has died at the age of 57, the NYT reports: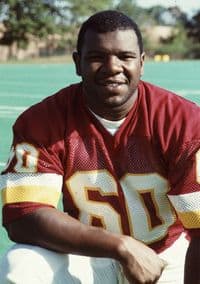 The cause was complications related to pneumonia, his brother Gary said. Simmons learned he had H.I.V. in 1997 and had other health problems, his brother said.
The paper adds:
By his own account, Simmons (pictured, during his career) abused his opportunity in the pros, falling quickly into heavy alcohol and drug use. The night before he played with the Redskins in the 1984 Super Bowl, his last game in the N.F.L., he snorted cocaine. In the stands that Sunday, he said, were friends he had invited, including three lovers — two female, one male. Somehow, he continued to keep his complicated sexuality a secret.
Years later, in 1992, appearing on "Donahue," Phil Donahue's television talk show, and with a former girlfriend and family members watching, Simmons made a stunning, awkward disclosure: He was gay. At the time, Simmons was the second former N.F.L. player to declare that he was homosexual. Dave Kopay, a running back who played nine seasons, was the first, in 1975.
Read the full report here.