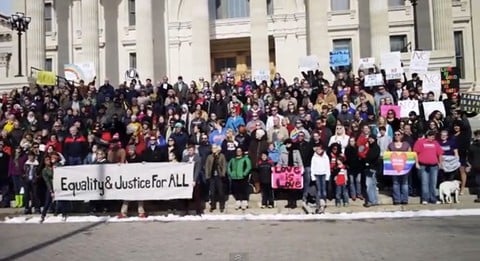 LGBT Kansans and allies are planning a rally Tuesday morning near the Capitol in Topeka to protest against the proposed bill that would allow religious-based discrimination against gays. While the bill is currently being blocked in the Kansas Senate by a coalition of Republican and Democratic lawmakers, conservative activists in the state are still lobbying for the bill's passage. The Topeka Capital-Journal reports:
In a joint statement, protest organizers Jen Harris and Ryan Wilks said, "(House Bill) 2453 is just the most recent attempt to shackle minorities into second-class citizenship.
The "End Inequality: Topeka Protest," the organizers said, is a grassroots gathering of people who no longer tolerate legislation that denies full equal rights to the LGBTQIA (lesbian, gay, bisexual, transgender, queer, intersex, asexual) residents of Kansas.
"We no longer trust that our liberty and justice is at the forefront of the minds of the elected officials," Harris and Wilks said. "We're protesting to send the resounding message that we will not accept homophobic discrimination disguised as religious freedoms protections any longer. We want our rights, and we want them now."
Supporters of the bill, meanwhile, continue to claim that the bill is being represented. 
Rep. Charles Macheers, a Shawnee Republican and chief advocate for the bill, said in a past Capital-Journal article the legislation was necessary because of potential religious persecution of individuals opposed to same-sex marriage.
"Discrimination is horrible," Macheers said. "There have been times throughout history where people have been persecuted for their religious beliefs because they were unpopular."
Gay rights organizations in the state, however, aren't buying it.
"This bill is a sham attempt by right-wing extremists to roll back recent progress for LGBTQ Americans," said Heather Cronk, co-director of GetEQUAL. "As a seminary graduate who was raised in the church, I believe this effort to use religion as a shield for bigotry and discrimination is shameful, un-Christian, and un-American. Though we know this bill has stalled for now, we don't doubt that it will be back again — and LGBTQ Kansans will be ready for it."
In a rally at the statehouse last week, some 250 protesters formed two lines behind signs labeled "Second Class Citizens" and "Straight People" to highlight the implications of the discriminatory bill.