Earlier this week, a little-known D.C. lobbyist made headlines after issuing a publicity stunt-ish press release saying he had support from five members of the House and a Senator for a non-starter bill that would ban gay players from the NFL. The lobbyist, Jack Burkman, wouldn't name the lawmakers.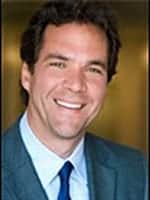 Said Burkman in a statement in the release:
"We are losing our decency as a nation. Imagine your son being forced to shower with a gay man. That's a horrifying prospect for every mom in the country. What in the world has this nation come to?"
"Burkman serves as founder and president of his own lobbying firm, Burkman Associates. He has also worked as of counsel at law firm Holland & Knight. In the 1990s, he served as counsel to then-Rep. Rick Lazio (R-N.Y.)," according to The Hill.
Added Burkman to the HuffPost:
"I felt that if the NFL doesn't have any morals, and people like [Commissioner] Roger Goodell, who are just go-along-get-along guys, just want to appease advertisers, appease corporate America and all that stuff, I figured, well, it is time for conservatives in Congress to step in and define morality for them…This is not about bigotry. It is about common decency and civility. Society is moving to a point where we are going to have unisex bathrooms and the next generation thinks that is OK."
But the best reaction to Burkman's announcement came yesterday from Michael Sam, the would-be target of the alleged legislation.
Tweeted Sam: "Jack Burkman is going to need a Delorian, not some bogus bill, if he wants to prevent gay athletes from being in the locker room"
Jack Burkman is going to need a Delorian, not some bogus bill, if he wants to prevent gay athletes from being in the locker room

— Michael Sam (@MikeSamFootball) February 25, 2014