The NYT has published a background story on football player Michael Sam's challenging upbringing in Missouri, which he says was more challenging than his decision to come out of the closet. Sam's father's reaction to that coming out reveals some of those difficulties, the paper reports: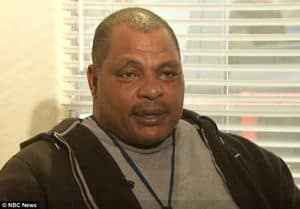 Last Tuesday, Michael Sam Sr. was at a Denny's near his home outside Dallas to celebrate his birthday when his son sent him a text message.
Dad, I'm gay, he wrote.
The party stopped cold. "I couldn't eat no more, so I went to Applebee's to have drinks," Sam Sr. said. "I don't want my grandkids raised in that kind of environment.
"I'm old school," he added. "I'm a man-and-a-woman type of guy." As evidence, he pointed out that he had taken an older son to Mexico to lose his virginity.
On Sunday night, just after Michael Sam announced his intention to make sports history, his father was still struggling with the news.
Sam Sr. loves his son, and he said he hoped his son made it to the N.F.L. "As a black man, we have so many hurdles to cross," he said. "This is just one he has to cross."
But he expressed discomfort at the very idea of a gay N.F.L. player, even if the player was his son. He grumbled that Deacon Jones, the Hall of Fame defensive end renowned for his toughness, "is turning over in his grave."
Michael Sam says when he visits home, he usually stays with friends.
Life had hardly been kind to him or his family. Michael Sr. and his mother, JoAnn Sam, were separated after having eight children. He went to North Texas to work as a trucker. She tried to keep what was left of her family together.
A sister drowned when she was 2, before Michael was born, when another child accidentally knocked her off a fishing pier. Another brother, Russell, was 15 when he was shot and killed trying to break into a home, in what his father said was part of a gang initiation. Another brother, Julian, has not been heard from since he left for work one day in 1998; his family believes he is dead. Two others are in jail.
Read the full profile HERE, which reveals how Sam overcame his family troubles to head to college and get to where he is today.