Like father like daughter: Teresa Giudice's daughter Gia tweets anti-gay slur.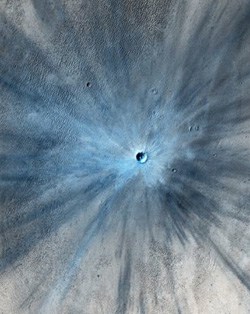 Astronomers spot massive new crater on Mars.

Selena Gomez was in rehab because of her addiction…to Justin Bieber.

U.S. warns airlines of toothpaste tube threat ahead of Sochi. "According to the ABC report, which cited a senior U.S. official, intelligence has indicated that toothpaste tubes can hold ingredients that could be used to construct a bomb aboard a plane."

New species of 12-million-year old sperm whale discovered fossilized in California high school garden.

Clay Aiken talks to Politico: "In politics, the only way you can win is if you can make somebody else lose. And because of that we've got a culture in Washington where people aren't even trying to do anything good any more. They are not even trying to do anything right for people. They're just trying to make the other people look bad and make the other person lose."

Obama has some down time with his dogs.

Broadway goes dark in honor of Philip Seymour Hoffman; autopsy results inconclusive.

Former SNL star turned teabagger Victoria Jackson may run for office: "Jackson, who moved to Thompson's Station last year, is petitioning as an independent to become a candidate for one of two District 2 commission seats, currently held by commissioners Betsy Hester and John Hancock."

If I Wasn't Straight I'd Definitely be Gay: Harry Styles picks up an art piece by Hayden Kays.

Manif pour tous', the French movement formed in opposition to France's legalisation of gay marriage, fails to defeat European Parliament report calling for discrimination protections to be extended to sexual orientation.

California cannot ban gay-conversion therapy until the U.S. Supreme Court says whether it will look at the law, the 9th Circuit ruled late Monday: "California's SB 1172, which the 9th Circuit upheld in August, prohibits state-licensed psychiatrists, psychologists and counselors from using sexual-orientation change therapy on patients younger than 18. After the full court refused to hold an en banc rehearing of the case, the challengers requested a stay of the mandate so that they can petition the U.S. Supreme Court for a writ of certiorari."

Who else was at the Amnesty concert with Pussy Riot?

Neil Patrick Harris is inching toward the opening night of Hedwig and the Angry Inch.

Twenty shirtless photos of Cristiano Ronaldo.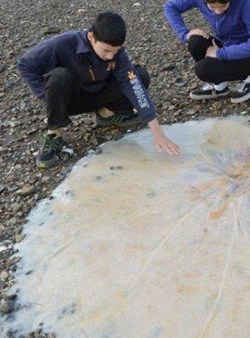 Giant jellyfish washes up in Australia.

Doug Ford defends his brother Toronto Mayor Rob Ford's decision to again skip Gay Pride: "He's not homophobic. I brought my kids down there and I wouldn't bring my kids back when there's buck-naked men running down the street."

Racing to save the stray dogs of Sochi.

Human Rights Campaign launching "war room" for marriage equality to disseminate information about state efforts: "Adding a bipartisan dimension to the effort at a time when a number of establishment Republicans are moving to back gay marriage, the war room will be led by SKDKnickerbocker's Olivia Alair on the Democratic-leaning side, and Brian Jones, the former Republican National Committee official and Mitt Romney adviser, of Black Rock Group. Senior advisers to the project will be Hilary Rosen and Anita Dunn of SKDKnickerbocker."