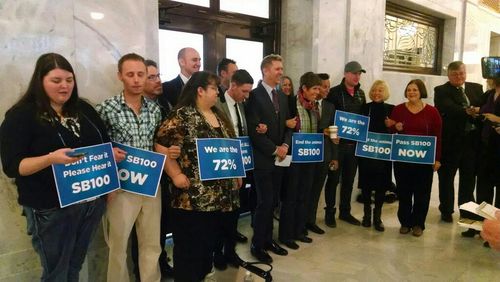 (twitter ben winslow)
A group of protesters barricaded Utah Governor Herbert's office this morning demanding SB100 be heard, and arrests have begun, reports FOX13 reporter Ben Winslow via Twitter.
SB100 is the LGBT non-discrimination bill which has broad public backing and which Senate Republicans last week said they would not consider until the 10th Circuit finished hearing the case related to same-sex marriage.
Sim Gill called out the Republicans in a Salt Lake Tribune op-ed published Saturday:
So now, an excuse — forgive me I don't know how else to say it — is being sought out to compromise an issue of fairness under the guise of some litigation consequence. Again, here is a thought experiment. Say that the U.S. Supreme Court were to uphold Amendment 3. The communities that have ratified and supported the non-discrimination ordinances were not violating any laws of this state, and will not, even if Amendment 3 were upheld.
What it comes down to is the underlying doctrine, rationalization and the truth of an idea that people deserve equality, that fear should not be empowered in ways that discriminate against fellow human beings and citizens; that what is morally, ethically and legally wrong should not and cannot be sanctioned by us as a community.
This has nothing to do with gay marriages but everything to do with all of us ­— as representatives of a promise in democracy, as elected leaders whose responsibility is as equally binding and owed to every citizen of our community, not only those who elected them but to every citizen, even those with whom they may disagree.
The intellectual honesty of every elected official is to open the door of government to every citizen and to offer fairness and justice. To do otherwise is to abdicate the principles on which they took their oath.