In a decree signed by Prime Minister Dmitry Medvedev today, the Russian government announced it would be expanding its existing ban on the adoption of Russian children to now include unmarried citizens in any country where same-sex marriage is legal. Back in July, the Russian Duma (with the help of NOM's Brian Brown) passed a law banning the adoption of Russian children by foreign same-sex couples.
The Moscow Times has more on the policy change: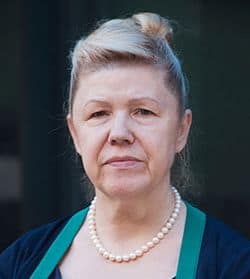 Lawmakers including State Duma Deputy Yelena Mizulina [pictured], who supported the "gay propaganda" law and is head of the Duma's Committee for Family, Women and Children, earlier called for July's law to be expanded, arguing that children taken in by heterosexual parents could later be transferred to gay parents.
The changes to the adoption law also decrease the official time period for considering applications made by prospective parents from 15 to 10 days and eliminate the need for paperwork confirming that the sanitary conditions of the child's new home are up to standard.
Well at least there's that…