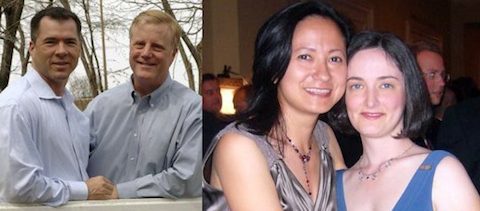 Texas Attorney General Greg Abbott, who is defending the state's gay marriage ban (which was struck down this week) in court, has a personal connection to the case in that he went to law school with Mark Phariss (second from left), one of the plaintiffs, and considers him a friend, the AP reports: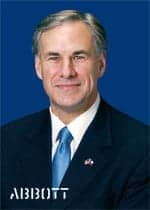 After leaving Vanderbilt, Abbott was crushed by a falling tree in Houston while out jogging. He was permanently paralyzed from the waist down, and upon hearing the news, Phariss flew to the hospital and spent two days with Abbott. He bought books to help him pass the time and kept Abbott's wife and mother company. A year later, Phariss said Abbott helped line up a job offer for him.
In the 1990s, when Abbott entered politics and was elected a state judge and later a Texas Supreme Court justice, he flew to San Antonio for a campaign stop. Phariss picked him up at the airport and drove him to meetings and a fundraiser.
Phariss, now 58 and an attorney near Dallas, said he was not openly gay at Vanderbilt. He dated girls and didn't ask out men, and didn't publicly reveal he was gay until his mid-30s.
Phariss apparently never came out to Abbott:
"If I was only friends with the people I agreed with, particularly in Texas, I wouldn't have many friends," Phariss told The Associated Press.
The AP adds:
Abbott made clear at a campaign stop Friday he doesn't approve of Phariss' quest to wed his longtime partner. He also expressed no sympathy at the thought of refusing his old friend the right to marry his partner of 16 years, Victor Holmes, an Air Force veteran.
"When the constitution is upheld, we're all winners," Abbott said.
The two haven't spoken for 10 years.