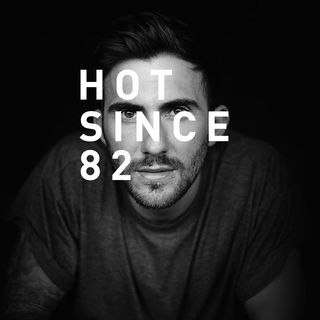 Tomorrow night, we're rallying our gay friends and Occupying NYC's infamous nightclub, Pacha for a rare appearance by one of my favorite producers, Hot Since 82. To get you revved up for the 'Bigger than Prince' remixer's deep and classic house sound, I've put together a playlist of new tracks that skew towards towards the same.
The mix starts with a new collaboration by Tensnake and Nile Rodgers, which has been given a fantastic piano house treatment by Grammy nominee Duke Dumont. Quintessential NYC DJ and producer Eli Escobar is inspired by Venus Xtravaganza's epic read in Paris is Burning for the next entry on the list, 'Touch.' The track is a B-side to his new single & EP, Red Hot (feat. Anna Lunoe). Following that, recent UK Chart Topper MK produces a classic house remix for the latest release by Disclosure's 'Latch' vocalist, Sam Smith. My favorite track from the first album of the man of the hour, Hot Since 82, is up next, and finally, we round things out with a tech house moment: it's Tiga versus Audion multiplied by Swedish techno producer, Adam Beyer, giving you a track that's sure to motivate a desire to dance.
If you're in the NYC-area and are interested in joing us tonight, check out the details on our website, or e-mail us: info@occupythedisco.com. Hope to see you on the dancefloor!
Bonus Track: Krish Ashok's 'Daft Pankajam' (free download)
Chennai's Krish Ashok gives the biggest disco song of 2013 a classic Indian twist with this Carnatic Remix. While this track isn't really for the dancefloor, it's a pleasure to listen to nonetheless.

OCCUPY THE DISCO (OXD) curates and recommends music events to the gay community in NYC—in an effort to move the focus of the nightlife scene beyond the promoter and venue and to the music itself. OXD's goal is to educate, entertain, engage and empower the gay audience to reclaim their ability to question and experience the unknown. The OXD Mirror will serve to showcase tunes that are definitely off-the-beaten-path but rightfully deserve the attention of the gay ear.
This week's post was written and curated by Ru Bhatt. Check out more of his music picks on his podcast, The Ru-Mix and on Made In Brazil.

Be sure to check out these tracks and more on our Spotify Playlist. For more information on OXD, check out our website and accompanying blog at www.occupythedisco.com, like us on Facebook, or follow us on Twitter: @OccupyTheDisco.