Ugandan President Museveni has signed a bill penalizing homosexuality with life imprisonment into law, the Ugandan Observer reports: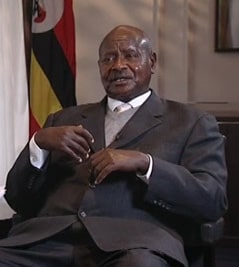 The president was in combative mood in a speech after the signing and while answering questions from journalists.  He suggested that the law was made necessary by arrogant western groups promoting a behaviour that threatens Ugandans' "way of life".
The signing, which was delayed by more than three hours, has been condemned internationally, but was hugely anticipated by many Ugandans.
The president, who first launched Galaxy International School at Lubowa, Entebbe road, signed the law at around 1:50pm East African time.
Before signing, the president identified three categories of gay people – recruiters, exhibitionists and mercenaries.
The president suggested he could not to understand how men could fail to be attracted to Uganda's beautiful women and, instead, get attracted to fellow men. The president also paraded the mostly Ugandan scientists who concluded that homosexuality wasn't generic.
The signing is expected to attract more attention and reaction from human rights defenders and the Western world, who have consistently been against the president's assent since the bill was passed by Parliament in December 2013.
President has just signed anti-homosexuality bill. pic.twitter.com/rFW7HoqsIS

— UBC UGANDA (@ubctvuganda) February 24, 2014