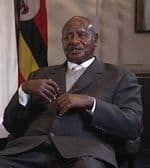 Ugandan President Museveni plans to sign the anti-homosexuality bill into law, according to tweets from Ofwono Opondo, a government spokesperson.
Said Opondo:
"Pres Museveni has told NRM MPs he will assent the Anti-Homosexuality Bill into law…This comes after 14 medical experts presented a report that homosexuality is not genetic but a social behaviour…The NRM caucus has welcomed the development as a measure to protect Ugandans from social deviants…Ugandan traditionalists, religious leaders & politicians have been urging Museveni to sign the Bill."
Museveni had objected to the way parliament had forced the bill through in December and refused to sign it, saying he intended to ask 'scientists' if being gay is a choice or not. Museveni's 'scientists' have reportedly concluded that it is a choice.
The bill penalizes anyone who aids or abets a known homosexual, and punishes homosexuality with life imprisonment.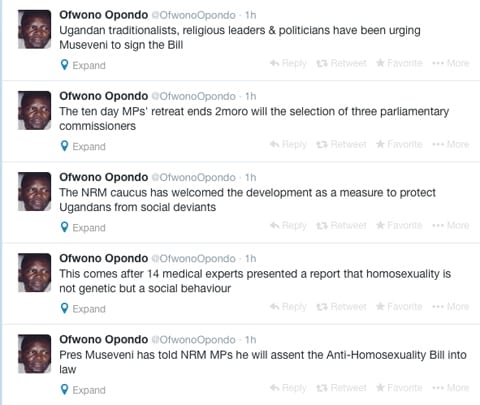 (via buzzfeed)