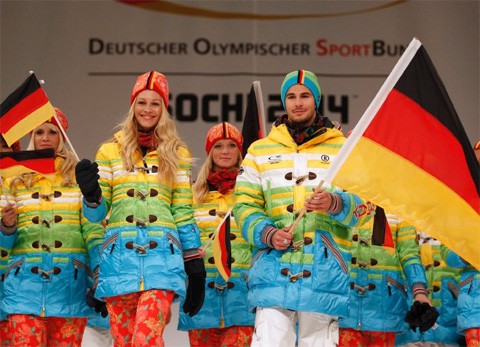 With the constant stream of athletes, politicians, and companies speaking out strongly against Russia's oppressive anti-gay laws in the months leading up to the Olympics, you might have thought that Russian authorities would have their hands full dealing with up-in-arms activists once the Games actually began.
Unfortunately for the LGBT citizens of Russia, the public criticism from Olympic athletes was, for the most part, muted in Sochi. The Wall Street Journal reports:  
There were no high-profile proactive statements or blatant symbolic gestures by athletes. A few athletes criticized the law when asked by reporters to weigh in, and a Belgian performer who supports gay rights displayed rainbow colors, a symbol of the gay-rights movement, during her performance at the Games.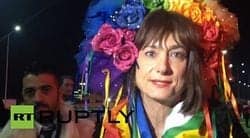 But the only really noticeable pro-gay act inside Olympic Park came when Italian Vladimir Luxuria [pictured], a transgender gay rights activist, showed up at a women's hockey game in a rainbow skirt after broadcasting that she planned a protest. Police removed her from the park. A day earlier police detained her briefly after she unfurled a "gay is okay" banner outside the park.
So what happened?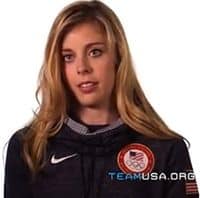 The paper points to the many athletes who said they had already gone on record against the anti-gay laws and felt that using the Olympic platform to promote a political or human rights cause would be an unnecessary distraction from the competition.
"I really have already voiced my opinion and spoken out," said U.S. figure skater Ashley Wagner [pictured], responding to questions from reporters. Wagner has been outspoken in her criticism of the Russian laws. "My stand against the LGBT legislation here in Russia is really the most that I can do right now," she said. "I'm here to compete first and foremost."
How athletes in Sochi handled concerns over gay rights varied. Belle Brockhoff, the gay Olympic snowboarder who had promised to "rip on [Russian President Vladimir Putin's] ass" during Sochi interviews, failed to medal and was given minimal press coverage. Gay former Olympian Johnny Weir's decision to work the Games for NBC but not directly address gay rights in Russia was met with scorn from gay rights groups in the U.S. The German team, meanwhile, debuted a rather gay-looking rainbow outfit for the Games [pictured above], but maintained a steadfast denial that it was meant as a protest statement against Russia's anti-gay laws. Other athletes felt that wearing the 'Principle 6' line of protest merchandise was the proper avenue for Olympians to (indirectly) speak out for LGBT rights.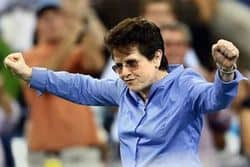 Tennis legend Billie Jean King, who was among the gay athletes in President Obama's Olympic delegation, said she supported athletes' decision to avoid public demonstrations that could get them booted, but disagreed that the Olympics isn't a place for politics. 
"It is an unbelievable opportunity to exchange ideas and hear each other," she said, standing on a hotel balcony just outside Olympic Park. "Hopefully, out of all these athletes we will have some teachers."
To believe the Olympics can remain entirely separate from politics, she says, amounts to "keeping your head in the sand."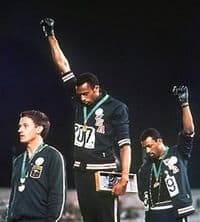 Indeed, using the Olympics as a platform for social activism is nothing new, with the most memorable incident being the black power salute by medal winners John Carlos and Tommie Smith in the 1968 Mexico City Olympics. It's sad to think then, that these Olympics came and went without a similar moment of solidarity with LGBT equality, especially when such international attention was given to the issue. Just imagine how iconic (and bold) of a statement could have been made if a simple kiss was shared between two same-sex medal winners on an Olympic podium while in Sochi.
Now that would have kept the conversation going long after the Olympic spotlight and journalists faded from Sochi. 
The International Olympic Committee, which is under pressure to be more selective in its picking of future host cities, has said it's impractical to eliminate potentially controversial countries, otherwise the Olympics would be held "in only two places." Putin, for his part, praised the IOC for taking a "risk" by entrusting the Games with Russia. In a post-Olympics meeting attended by IOC president Thomas Bach and committee members, Putin said one of the main aims of the Games was to show off to the world the new face of post-Soviet Russia, a country he has run since 2000. 
"It was important to show that we are a country with goodwill which knows how to meet guests and create a celebration not just for itself but all sports fans in the world."
With the Games over, however, one can't help but feel a sense of mounting concern for Russia's "goodwill" towards its already marginalized LGBT community. The removal of parenting rights for gay couples in Russia, for example, could very well be the next step in Putin's anti-gay agenda.