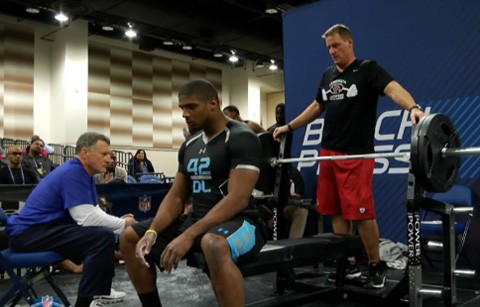 Bleacher Report has a lengthy post up on Michael Sam's NFL scouting combine performance on Monday, which it describes as "about average":
Sam's drill performances and athletic times were a mixed bag, as the former Missouri standout finished about average among defensive ends. While that's to be expected for a mid-round prospect like Sam—especially given the immense spotlight he's been under since announcing that he is gay—the reaction from NFL teams will be interesting to watch.
Teams expecting to see a guaranteed superstar in the making were probably disappointed. But for those hoping for splits that put Sam well within the "draftable" range, there is little reason to feel he's fallen off any draft boards.
The number that sticks out most, arguably, is Sam's disappointing performance in the bench press. Those concerned about his strength aren't going to walk away assuaged. Sam's total of 17 reps at 225 pounds was one of the lowest figures among defensive linemen, better than only UCLA's Cassius Marsh.
The NY Daily News called it 'unimpressive':
The suddenly-scrutinized Missouri defensive end struggled throughout his drills and tests at the NFL Scouting Combine in Indianapolis, showing exactly why scouts have had their doubts about his playing ability for months.
Sam, who measured 6-2, 266-pounds, needed a good workout if he hoped to calm concerns that he's a player without a position. Instead, the SEC Defensive Player of the Year showcased the skills of a player who simply doesn't project as more than a third-down pass-rusher in the NFL.
Sam faced media at the combine on Sunday, and faced mostly questions about his sexuality, though appeared at ease with handling the spotlight. Said Sam:
"'How's football going? 'How's training going?' I would love for you to ask me that question. But it is what it is and I just wish you guys would see me as Michael Sam the football player, not Michael Sam the gay football player."