Mayor Marty Walsh announced this morning that he will not participate in the South Boston St. Patrick's Day parade over its exclusion of gay groups: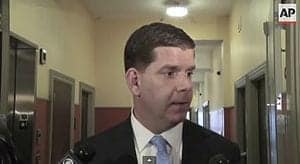 The St. Patrick's Day parade was born out of the celebration of Evacuation Day, a day set aside to recognize and honor our military and those brave Americans who have banded together for the sake of freedom. And so much of our Irish history has been shaped by the fight against oppression.
I'm disappointed that this year, I will be unable to participate in the parade. As mayor of the city of Boston, I have to do my best to ensure that all Bostonians are free to participate fully in the civic life of our city. Unfortunately, this year, the parties were not able to come to an understanding that would have made that possible.
I look forward to participating in this morning's breakfast with my friend Senator Linda Dorcena Forry, and I plan to spend the afternoon with my family. On behalf of my entire staff, we wish the entire city a happy Saint Patrick's Day.
As we reported earlier, Sam Adams beer has also pulled its sponsorship of the parade.