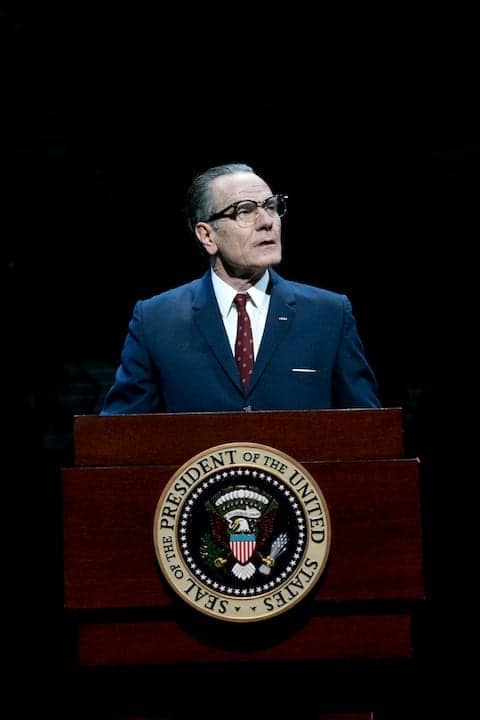 BY NAVEEN KUMAR
If the finales of House of Cards and Breaking Bad have left a deficiency of political intrigue and binge-worthy Bryan Cranston in your entertainment diet, All the Way, which opened on Broadway March 6 at the Neil Simon Theatre, may go at least part way toward filling the void — depending on your stamina and appetite for American history.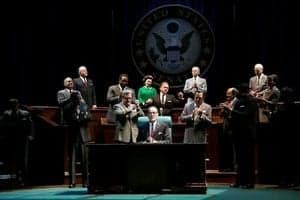 Robert Schenkkan's play, in which Cranston tackles another sort of anti-hero as Lyndon B. Johnson, spans the president's assumption of office following JFK's assassination in 1963 to his landslide reelection the following year. During that brief time, Schenkkan shows an LBJ as gruff as he is charismatic, strong-arming the Civil Rights Act of 1964 (initiated by his predecessor) into law with far more pragmatism than passion.
Making his Broadway debut after performing the role at American Repertory Theatre last fall, Cranston barrels through the dense, detail-laden drama with a masterful presence. His LBJ governs with a thick Texas drawl (more commanding than it is charming, though it's often both), and a shifty swagger that betrays the vulnerability beneath his power-hungry veneer.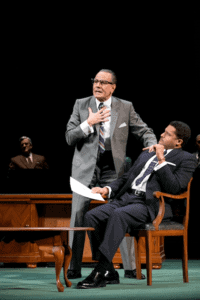 For all of LBJ's cold political maneuvering, Cranston always manages to keep the president's humanity pulsing close to the surface, opaque as that surface may sometimes appear to be. The actor's unique, subtle manner of evoking sympathy and disdain in the same beat, so brilliantly distilled in his performance as Breaking Bad's Walter White, translates powerfully to the stage.
Many actors in the sizeable ensemble play multiple characters, and director Bill Rauch does a fine job of keeping political details clear. Though, as with any historical drama that has an obvious outcome, keeping tensions high is key (we already know, in this case, who ends up on the wrong side of this civil rights debate). Clocking in at nearly three hours, Rauch's production doesn't always rise above the level of animated history lesson. 
Particularly in the play's first act, which deals mostly with the politics of passing the Civil Rights Act and the shifting tide of Johnson's relationships with Martin Luther King Jr. (a fine Brandon J. Dirden) and other key figures, Schenkkan's writing is both utilitarian and laced with short-order political jargon—more fitting for historical reenactment than nuanced narrative.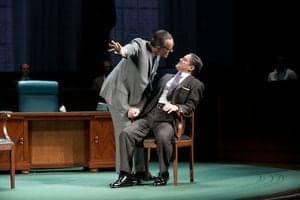 The play's second act proves more engaging, with Johnson's intense focus on reelection set against popular uprisings and the specter of impending disaster in Vietnam. An outbreak of racial violence, highlighted by the deaths of three young volunteers during Freedom Summer, a project to register black voters, raises the stakes and lends emotional heft to the play's conclusion. Stripping away the politician's bravado, Cranston lays bare Johnson's deepest insecurities in a quietly stunning emotional climax.
The messy clash of social ideals with political realities will always be a timely and relevant story, all the more effective the more compellingly it's told. All the Way sets itself an ambitious goal; having Cranston in the cockpit certainly proves a great place to start, even if Schenkkan's drama doesn't quite go the titular distance. 
Recent theatre features…
Possessed Puppet Satire 'Hand to God' Opens Off Broadway: REVIEW
New Musical 'The Bridges of Madison County' Opens On Broadway: REVIEW
Pulitzer Prize Winning 'Dinner With Friends' Opens Off Broadway: REVIEW
Drag Impresario Charles Busch Dolls Up For 'The Tribute Artist': INTERVIEW
'Beautiful: The Carole King Musical' Opens On Broadway: REVIEW

Follow Naveen Kumar on Twitter: @Mr_NaveenKumar (photos: evgenia eliseeva)