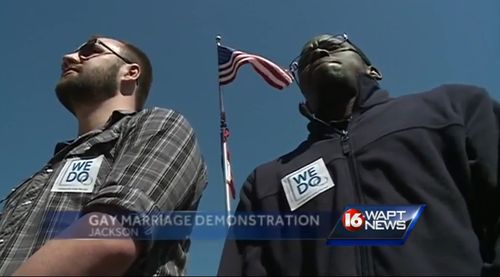 We Do, a series of demonstrations grown out of the grassroots Campaign for Southern Equality protested at the Hinds County Courthouse on Tuesday. Part of the protest involved five couples applying for, and eventually being denied, marriage licenses. Towleroad reported two days ago about a couple who registered their legal marriage in New York at a MS county clerk's office, but the Magnolia State still refuses recognition and, of course, has a ban on same-sex marriage.
WAPT News reports:
"We gather together to resist laws that we believe to be immoral and also unconstitutional," said Jasmine Beach Ferrara, of the "We Do" campaign.
Last July, people involved in the campaign walked to the courthouse and attempted to obtain marriage licenses.
More than 100 LGBT couples across seven Southern states have taken part in the movement. 
"It's clear Mississippians believe marriage is between one man and one woman," said Lt. Gov. Tate Reeves, a Republican.
In 2004, by an 80 percent margin, Mississippi voters defined marriage as being between a man and a woman. 
The odds are stacked against LGBT Mississippians, but the more notoriety these demonstrations receive, the better. We Do tweeted a picture of one of the couples as well: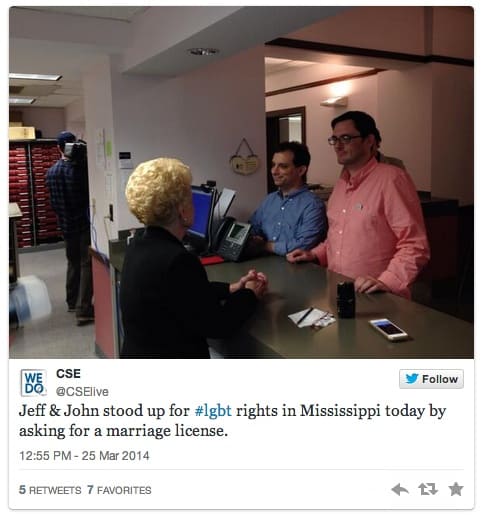 And check out a news report of the protest at WAPT, AFTER THE JUMP…