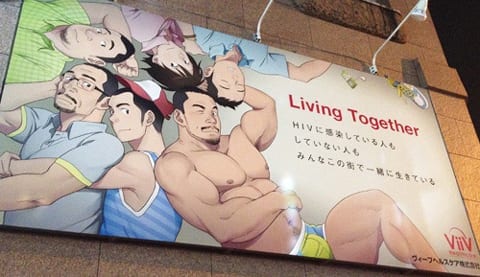 Last December, an HIV-awareness billboard commissioned from gay artist Poko Murata appeared in the Tokyo gay district of Shinjuku Ni-chome. The billboard — advertising the AIDS pharmaceutical company Viiv Healthcare — featured a ring of Japanese men alongside the text, "There are people living with and without HIV and we're all already living together."
In January, Murata received a complaint from the Shinjuku district office that his billboard was "contrary to public order and morality" because of one of the men in his ad was wearing only underwear. After re-drawing the man in a slightly unzipped pair of shorts, the office continued to complain because the man's underwear was still visible.
The artist himself considers the complaint "an obvious prejudice and discrimination against gays," especially considering that the district has numerous advertisements for straight bars featuring real-life women in skimpy underclothes. Journalist Dan Littauer also notes that the Tokyo police have arrested gay bookstore employees in the past for selling obscenity even though one can easily find similarly "obscene" books in hetero sex shops.
A clothed version of Murata's sign was placed over the original earlier this week.