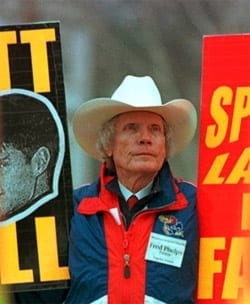 Westboro Baptist Church pastor Fred Phelps Sr. died late Wednesday night, WIBW reports:
"Timothy Phelps, son of former Westboro Baptist Church leader Fred Phelps, told WIBW that his father died before midnight."
Phelps had been reported "on the edge of death" by his estranged son Nate earlier this week. Reports subsequently emerged that  the "God Hates Fags" pastor had been excommunicated after an internal power struggle at Westboro in which a board of elders – Steve Drain, Timothy Phelps, Jonathan Phelps, Samuel Phelps-Roper, Charles Hockenbarger and Fred Phelps Jr – also took down Shirley Phelps Roper from a position of authority.
Following the news that Phelps was near death, Lucien Greaves, the leader of the New York-based Satanic Temple, promised to hold a "pink mass" over Phelps' graves and turn him posthumously gay.
UPDATE:
Westboro Baptist has posted a statement in response to Phelps' death. Read it HERE.