A bill that would have banned 'ex-gay' therapy for minors in Minnesota failed to pass the state legislature, The Colu.mn reports: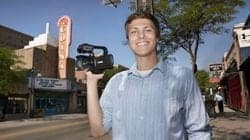 "The bill is officially dead for this session as it has missed committee deadlines," Gabe Aderhold told TheColu.mn. Aderhold and fellow University of Minnesota student Alec Fischer [pictured] have been pushing for the bill. Late last year, the two created a petition with more than 114,000 signatures urging lawmakers to ban "ex-gay" therapy with minors. Aderhold and Fischer were successful in getting the bills introduced this session. California and New Jersey have enacted similar laws, and a half dozen other states are considering similar legislation.
"The votes were there in the Senate committee, but Tina Liebling, chair of the Health and Human Service Policy Committee in the House would not hear the bill. She cited lack of time and not wanting to regulate the industry — leave it up to the licensing boards, etc — as her reasoning," Aderhold told TheColu.mn.
"With further investigation, Alec and I found that dozens of emails were being sent to lawmakers from folks around the country asking lawmakers to kill the bill before committee," he said. "We do not know what organization or group sent out these emails, but there were many and they had a generic response."
Marcus Bachmann perhaps?
Aderhold said the next step is to build a broader base of support, raise greater awareness, and reintroduce the bill next year.