Pope Francis suggested in an interview on Wednesday that the church might consider supporting same-sex civil unions, CNN reports: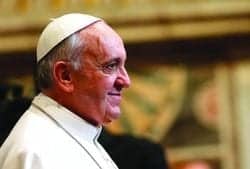 On gay marriage, the Pope reiterated the church's longstanding teaching that "marriage is between a man and a woman." However, Pope Francis said, "We have to look at different cases and evaluate them in their variety."
For instance, civil unions provide financial security to cohabitating couples, "as for instance in medical care," the Pope said in a wide-ranging interview published Wednesday in Corriere della Sera, an Italian daily.
According to the Pope's biographer, then Cardinal Borgoglio has supported the idea of civil unions in Argentina when faced with the unstoppable passage of same-sex marriage in 2010.