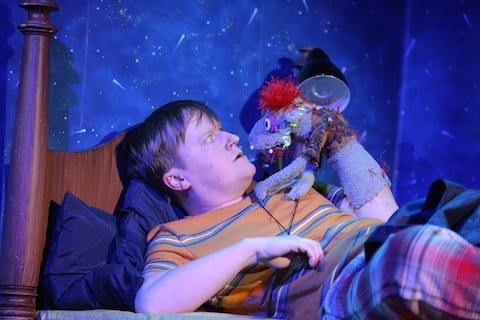 BY NAVEEN KUMAR
The titular appendage in Hand to God, playwright Robert Askins' wickedly funny comedy that opened Off Broadway last night at the Lucille Lortel theatre, goes by the name of Tyrone. He delivers some of the most apt criticism of western religion you're ever likely to hear, and has zero tolerance for B.S.—including from the hand that wears him. A sharp-tongued (and awesomely foul mouthed) sock puppet, Tyrone may or may not in fact be possessed by the devil.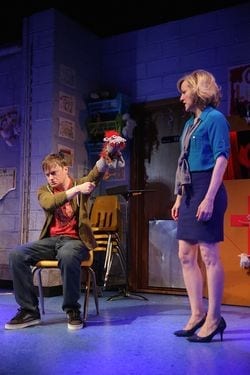 Askin's play, which returns Off Broadway in an MCC production after an acclaimed run at Ensemble Studio Theatre in 2011, is set in a small Texas town where a few teenage kids meet at the local ministry to rehearse a puppet pageant and stay out of trouble. Jason and his mother Margery (who runs the puppet group) are both reeling from the recent loss of his father to a heart attack. For Marge, running the group seems like a much-needed distraction, for Jason and his puppet Tyrone it's a lot more than just that.
Aside from his recent loss, Jason is a shy, quiet type and giving voice to his puppet helps raise the volume on his own. Tyrone starts out like the devil on Jason's shoulder, a wisecracking voice for thoughts the boy might not otherwise say himself. It's how he first connects with Jessica (Sarah Stiles) the girl he likes in class, and later how he lashes back at Timothy (Michael Oberholtzer) his cocky, oversexed rival.
But it quickly becomes clear Tyrone has a mind of his own, or at least a will separate from Jason's, who can't just take him off as he pleases. By the play's second act, blood is drawn, puppet sex is had and it seems an exorcism may be in order. Yet still, his puppet's violent temper and wild libido are qualities Jason could use himself in moderation—courage to stand up for himself and the nerve to get the girl.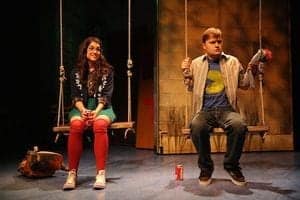 Actor Steven Boyer reprises his mind-boggling and Obie-award-winning performance as Jason (and Tyrone), spending much of the play in conversation with his own left hand—from acting out an Abbot and Costello routine to impress Jessica, to full on hand-to-sock combat. Jason and Tyrone are so distinct in personality and their two-way dialogue is so convincing, half the time it's actually hard to believe you're watching just one performance.
Joining Boyer from the 2011 cast, Geneva Carr is excellent as Marge, who doesn't get along with the other church mothers, finding herself stuck in a role she never felt fit to play. She attracts equally ardent attention from Pastor Greg who oversees the church (an always charming Marc Kudisch), and hormonal Timothy, making her the apex of a twisted (and surprisingly athletic) love triangle.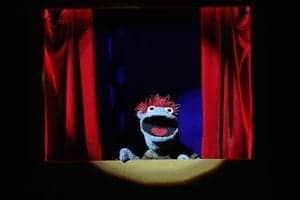 Director Moritz von Stuelpnagel keeps action moving swiftly with careful attention to detail and draws out incredible performances and puppetry from the winning company. Often shockingly funny, the play's disarming humor makes its dark conclusions all the more startling. 
We're accustomed to puppets who have something to teach us, like the difference between good and evil. Tyrone's lesson that the two go hand-in-hand is likely to stick around in your mind longer than most.
Recent theatre features…
New Musical 'The Bridges of Madison County' Opens On Broadway: REVIEW
Pulitzer Prize Winning 'Dinner With Friends' Opens Off Broadway: REVIEW
Drag Impresario Charles Busch Dolls Up For 'The Tribute Artist': INTERVIEW
'Beautiful: The Carole King Musical' Opens On Broadway: REVIEW
Towleroad's Top Ten Best Plays and Musicals of 2013

Follow Naveen Kumar on Twitter: @Mr_NaveenKumar (photos: joan marcus)