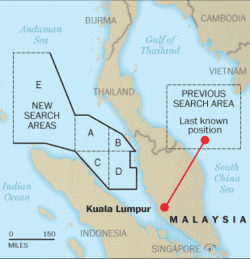 As the search for Malaysia Airlines' missing Boeing 777 airliner continues for a fourth day, authorities are turning their interest to a new, completely different area after military officials report radar data showed the plane may have turned around, and flown hundreds of miles off its flight path at an extremely low altitude, the WaPo reports:
If the plane dropped from a low altitude into the Malacca Strait, it might explain the lack of a major debris field. Malaysia Airlines said in a statement early Tuesday that the western coast of Malaysia was "now the focus" of the search. But a spokeswoman for the airline later said the wording was a mistake and that there was no particular emphasis on any location.
Malaysian civil aviation chief Azharuddin Abdul Rahman said searches were continuing "on both sides" of the peninsula.
Authorities expressed surprise that the plane would have attempted to head back to the Malaysian capital without informing ground control.
Terrorism has not been ruled out though "two Iranians who boarded an ill-fated passenger jet with fake passports did not appear to have any terrorist links."