South Carolina Republican lawmakers voted to slash funding to the College of Charleston and the University of South Carolina Upstate in Spartanburg because the schools gave freshmen assignments with gay themes, CNN reports: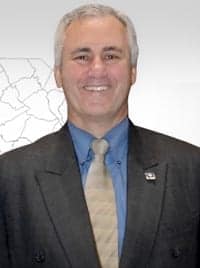 Last summer, the College of Charleston provided incoming freshmen with a memoir, "Fun Home," in which the author deals with coming out as a lesbian. The University of South Carolina Upstate, meanwhile, assigned "Out Loud: The Best of Rainbow Radio," which features an account of South Carolina's first gay and lesbian radio show.
Rep. Garry Smith (pictured), a Republican from Simpsonville, proposed the cuts in the House Ways and Means committee and says they were prompted by a complaint from a constituent whose teen daughter was going to one of the schools. They would strip the College of Charleston of $52,000 and the University of South Carolina Upstate in Spartanburg of $17,162 for making the assignments.
The budget is to be considered by the full House this week.
Said Smith:
"I think the university has to be reasonable and sensible to the feelings and beliefs of their students. That was totally ignored here. I was trying to hold the university accountable. Their stance is 'Even if you don't want to read it, we'll shove it down your throat.' It's not academic freedom — it's academic totalitarianism."
The College of Charleston meanwhile, says the book is not required reading.
Several state senators have also complained that public universities are not following a nearly century-old law requiring schools to teach the Declaration of Independence and the Constitution. Harris Pastides, the president of the University of South Carolina, said the law would pose constitutional challenges: It also requires students swear a loyalty oath to the United States before receiving a college degree.