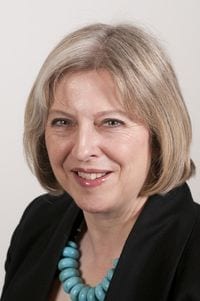 Following reports of invasive interrogation procedures for gay asylum claimants, U.K. Home Secretary Theresa May has ordered a review of border officials' handling of claims made on the grounds of sexual orientation. The Guardian reports:
"We do need to establish that the risk of persecution is real, and this will often depend on whether the sexual orientation of the asylum seeker is as claimed," said May. "We seek to establish this at interview through questions about sexual orientation, not sexual behaviour."
Previously leaked documents revealed the high burden of proof these claimants face. One male asylum seeker was asked a series of intrusive questions including: "What is it about men's backsides that attracts you?" and "What is it about the way men walk that turns you on?" The BBC also reported that, "in extreme cases claimants had handed over photographic and video evidence of 'highly personal sexual activity' in an effort to persuade officials."
"It was disappointing therefore to discover that we may not have followed our guidance in at least one case, which was brought to the attention of the media recently and where inappropriate questions appear to have been asked," said May.
"We are committed to treating all asylum claimants with respect and dignity and we want to continue to improve on current practice in this area."
The paper notes that MPs have previously raised concerns the process for lesbian and gay applicants, many of whom are fleeing persecution in their home countries, relied too heavily on anecdotal evidence and "proving that they are gay."