Buzzfeed reports on the steps that the Obama administration plans to take "immediately" in response to Uganda's anti-gay law: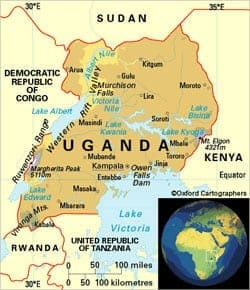 Money will be shifted away from the Inter-Religious Council of Uganda, a group that has publicly come out in support of the anti-gay law and has received millions of dollars in grants from the United States to help fight the HIV/AIDS epidemic. Some $2.3 million will continue to go to the IRCU to continue treatment for some 50,000 current patients, but an additional $6.4 million intended for the IRCU will go to other organizations.
Second, because the law makes "promoting homosexuality" illegal, a U.S. funded study to help identify populations at risk of contracting HIV/AIDS has been suspended. The study, which was going to be conducted by a Ugandan university and the Center for Disease Control, has been suspended out of fear that both staff and survey respondents could be put in danger.
Third, because any LGBT person or LGBT ally who now enters Uganda is at risk, money intended for tourism programs will be redirected…
And finally, the Department of Defense had several events scheduled in the country later this spring and those will be moved to other locations. "Certain near-term invitational travel" for Ugandan military and police personnel has also been suspended or canceled.
In a recent interview with Towleroad, Ugandan activist Richard Lusimbo discussed the impact the cutting of foreign aid would have on the LGBT population of Uganda:
"If aid is just cut in general terms, the local person is going to suffer. This includes LGBTI people. It will promote the isolation of the LGBTI community and we will continue to be marginalized. People like David Bahati that have been promoting homophobia are going to go on the radio and say, 'Look, people are dying because of the homosexuals. We can't have medicine in hospitals because of homosexuals. We can't have good water because of homosexuals.' These are government responsibilities but because our economy hasn't reached a point where President Museveni can support this, we are still depending on foreign aid."

Lusimbo added: "We need to look at sectors where the government will feel a direct pinch. If that funding that the US gives to the army, if that were stopped, then that would have a direct effect. Donor countries should rethink and go back to the drawing table and look at how they could actually fund."

The concern is if aid is cut due to the anti-homosexuality bill, the pinch could have a trickle down effect on Ugandan taxpayers, Lusimbo said. "We have seen billions disappear in scandals. The money sent through the prime ministers office to support the development of Northern Uganda, didn't go to any work, it was just swindled away. Ugandan taxpayers money was used to pay it back."
What do you think of the near-term U.S. steps in reaction to the Ugandan law?