Zimbabwean President Robert Mugabe spoke out in support of Uganda's Anti-Homosexuality Law on Monday and condemned Western nations for threatening to cut aid, AFP reports.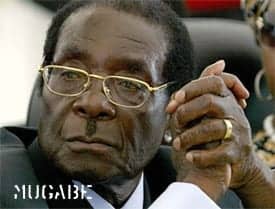 Said Mugabe:
"They (the West) want to tell us… that it's a violation of human rights, that is what they are doing to Museveni right now…The human right you have as a man is to marry another woman not to get another man to marry, we refuse that. It's a terrible world we are in, a terrible world where people want to do things that they feel will enhance their own interests."
Mugabe also said that he has become aware of a group of gays in Zimbabwe and plans to investigate:
"I understand we have a group of homosexuals in this country. I didn't know until I was told the day before yesterday. So we want to check on who is in that group."
AFP notes: "The Gays and Lesbians Association of Zimbabwe (GALZ) has long operated in the country despite Mugabe's ranting against homosexuality. Police have on several occasions raided the GALZ offices and prosecutors had laid charges against the association accusing it of operating an unregistered organisation."
Mugabe spoke out against gays last July no less than seven times, threatening to chop off their heads:
 "If you take men and lock them in a house for five years and tell them to come up with two children and they fail to do that, then we will chop off their heads. This thing (homosexuality) seeks to destroy our lineage by saying John and John should wed, Maria and Maria should wed. Imagine this son born out of an African father…Obama says if you want aid, you should accept the homosexuality practice. Aah, we will never do that."
Mugabe has previously claimed that gay men pose a threat to women's rights, condemned the "gay filth" of European culture, as well as threatened the U.K.'s prime minister over their support of same-sex couples.