The Alabama House approved a resolution that calls for a convention to put a gay marriage ban in the U.S. Constitution, the Montgomery Advertiser reports: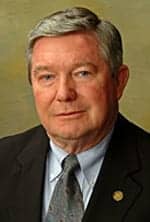 The resolution, sponsored by Rep. Richard Laird, I-Roanoke, quotes a 2006 amendment to the state constitution that bans same-sex unions, and calls marriage "a sacred covenant, solemnized between a man and a woman." The resolution also cites several court cases, including five from the 19th century. It goes on to say that the U.S. Supreme Court "officially severed its respect for marriage" last year, when it struck down the federal Defense of Marriage Act, which prevented the recognition of same-sex spouses under federal laws.
Laird's resolution calls for an Article V convention, which would require 34 states to ask Congress to call a convention to propose an amendment to the U.S. Constitution. According to the resolution, the convention would specifically propose an amendment defining marriage as a union between one man and one woman, and bar legal recognition of any other form of marriage.
Laird infuriated Alabama's only openly gay lawmaker, Patricia Todd, after blindsiding her with the resolution by not describing its contents until it was time for the vote to be taken, thus heading off her objection to it.
House Speaker Mike Hubbard had also told Todd such an amendment would not come up for a vote.