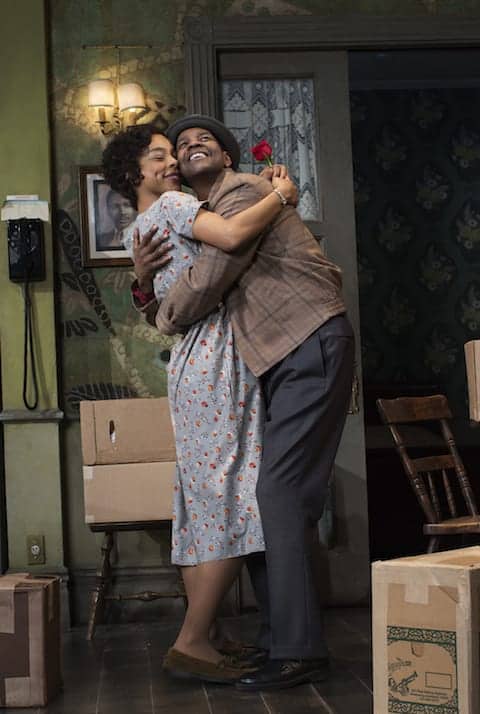 BY NAVEEN KUMAR
Just before the curtain rises on a beautifully acted production of A Raisin in the Sun, which opened on Broadway April 3 at the Barrymore Theatre, a recorded interview with Lorraine Hansberry pipes through the darkened house, the playwright advocating for broader audiences and greater accessibility in American theatre. The irony will be lost on no one who's managed to snag a ticket to see the starry ensemble, led by Denzel Washington.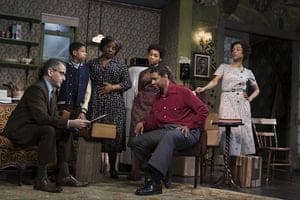 Hansberry's 1959 drama, last on Broadway just ten years ago in a revival headlined by Sean Combs (aka P Diddy), is as much a chronicle of mid-century black experience in America as it is an uncluttered family portrait. Set on Chicago's south side, the story looks in on the Younger family in their small, shabby apartment housing three generations under one roof. Grandfather Younger has recently passed, and a life insurance check is en route to his widow Lena (a sublime LaTanya Richardson Jackson).
Her son Walter Lee (Mr. Washington) has his mind set on using the cash to buy and run a liquor store. His sister Beneatha (Anika Noni Rose) could use some of the money to follow her dream of going to medical school. And Walter's wife Ruth (Sophie Okonedo) shares Lena's wish to move the family to a larger house where Ruth and Walter's son Travis (Bryce Clyde Jenkins) can have a room of his own.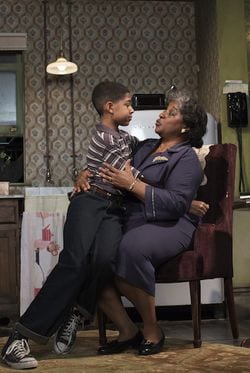 The play's relatively straightforward plot functions as a vehicle for Hansberry's revelatory account of pre-Civil Rights black experience in all its particulars. Some of her talking points feel more seamlessly integrated than others, but the uniformly stellar cast draws us into their story from its first moments. Like every family, this Younger clan has its own practiced rhythms and ways of relating, and together the company creates a captivating alchemy it's hard to look away from.
A master of the wordless glance, Ms. Jackson's Lena balances quiet wisdom with a glorious and equally commanding bluntness. Ms. Rose is wonderful as the young, ambitious Beneatha, the vulnerability beneath her character's idealism always coursing close to the surface. Rounding out remarkable performances by the show's leading women, Okonedo (Oscar nominated for Hotel Rwanda) dams up a precarious swell of feeling behind Ruth's firm exterior.
Washington, a Tony winner for his performance in August Wilson's Fences, has a star-powered stage presence that translates into palpable command of audience sympathy. His Walter Lee carries an easy charm that makes it difficult to resent his follies for long, so he's likable even at his most despicable. Though he doesn't tread a difficult path to redemption, Washington's interpretation is no less believable and moving for it.  
Director Kenny Leon, who also helmed the 2004 revival, maintains focus on drawing out fine performances from the talented company and forging an engaging, accessible family dynamic. If the drama feels more peppered with casual humor even at its most serious, moments of levity keep the pacing brisk and make the play that much more enjoyable to watch.
Recent theatre features…
Idina Menzel Opens In 'If/Then' On Broadway: REVIEW
Terrence McNally's 'Mothers and Sons' Starring Tyne Daly Opens On Broadway: REVIEW
New Production of 'Les Misérables' Opens On Broadway: REVIEW
New Musical 'Rocky' Opens On Broadway: REVIEW
Bryan Cranston Goes 'All the Way' On Broadway As Lyndon B. Johnson: REVIEW
Follow Naveen Kumar on Twitter: @Mr_NaveenKumar (photos:brigitte lacombe)