Questions have being raised about standing in the 10th Circuit appeal of Kitchen v. Herbert, the ruling striking down Utah's ban on gay marriage, and some believe the court could dismiss the case because the proper defendants were not named in the suit.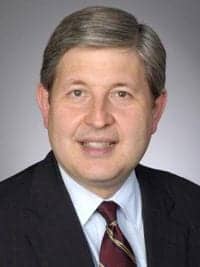 The plaintiffs named the governor, the attorney general and the Salt Lake County Clerk in the case.
The Salt Lake Tribune reports:
On Tuesday, Utah's lead counsel Gene C. Schaerr (pictured)  drew attention to a question posed to both sides by a three-judge panel at the 10th Circuit Court of Appeals last week regarding whether the lawsuit targeted the appropriate state and county officials…
…If the court finds that they're not, the appellate judges may decline to rule in the case, leaving Judge Robert J. Shelby's ruling to stand as law in Utah.
Questions from the court during arguments last week have led some to believe they are considering this, the paper adds:
During Utah's arguments last week, Judge Jerome A. Holmes — widely considered to be the "vote to get" in the case — asked Tomsic to explain why the defendants her plaintiffs had singled out were appropriate.
Further, he asked whether the state continued to have the right to appeal the case, given that Salt Lake County Clerk Sherrie Swensen declined to appeal Judge Shelby's Dec. 20 decision to overturn Utah's same-sex marriage ban.
"You sued the clerk of court," Holmes said, referring to Swensen. "But the clerk of court is not on the appeal, and, it would seem to me that creates a fundamental basis for concern about where jurisdiction lies in this case. "
Schaerr insists that the officials named have standing to defend the case:
The explanation several Utah county clerks gave was they were waiting on direction from the attorney general or governor's office as to how they should handle the situation.
This, Schaerr states in his letter to the court, is further proof that with or without the Salt Lake County clerk, the governor and the attorney general are within their jurisdiction to appeal the case to the 10th Circuit and, perhaps, beyond.
"Utah marriage licenses are issued by county clerks […] not by court clerks," Schaerr wrote. "Plaintiffs' suit thus satisfied the demands of Article III standing."