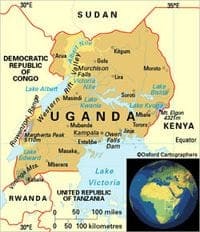 The Guardian is reporting that two Ugandan men will go to trial next month accused of violating the country's anti-homosexuality laws
Prosecutors said on Wednesday that they had sufficient evidence against Kim Mukisa and Jackson Mukasa, who denied the charges when they first appeared in court earlier this year. They have been held in Luziro prison in Kampala since December.
Mukisa, 24, a businessman, was charged with "having sexual knowledge of a person against the order of nature" and Mukasa, 19, with permitting a person to have sexual knowledge of him against the order of nature.
While the country's recently enacted anti-gay law punishes first-time offenders with 14 years in jail, Mukisa and Mukasa have been charged under the 1950 Penal Code Act which prescribes life imprisonment for persons found guilty of homosexual acts.