Eagle Eye opposition research blogger Jeremy Hooper noticed that one of the people attending Mississippi Governor Phil Bryant's signing of the "license to discriminate" law was hate-group leader Tony Perkins.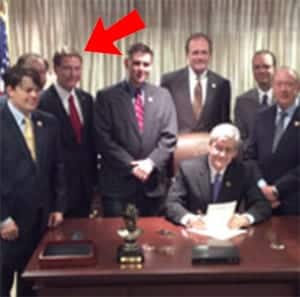 At GLAAD, Hooper wrote:
A week ago, I showed you how the Family Research Council, one of the most anti-LGBT organizations in the country, had assembled a team of very hostile voices in order to advocate for Mississippi's version of one of those Arizona-style license-to-discriminate bills that are making their way across the country.  The team, led by FRC president Tony Perkins, framed their advocacy as being against "the homosexual agenda" and they admitted in a latter to MS lawmakers that LGBT people are "those who engage in behavior we find objectionable."  There is no denying that they saw this as a fight against LGBT people and rights…
FRC president Tony Perkins was actually at the bill signing, joining local lawmakers and the governor for what they considered a triumphant moment.  Of the small handful of invitees, Tony was one of the only non-elected officials (and/or non-Mississippi residents) to be there.  He had no real ties other than the fact that he, as one of the strongest practitioners of the anti-LGBT arts, sees this bill as a boon to his cause.  
Although it's really no big surprise that the governor invited Mr. Perkins.  Again, Tony and his equally LGBT-hostile team of advocates pushed and pushed hard for this, one of the many bills that the anti-LGBT movement is trying to dupe state legislatures into passing.  The governor was likely grateful for Tony's handiwork against "those who engage in behavior we find objectionable."
Perkins has repeatedly been invited on television as a conservative and evangelical expert without any mention whatsoever about his ties to a hate group.