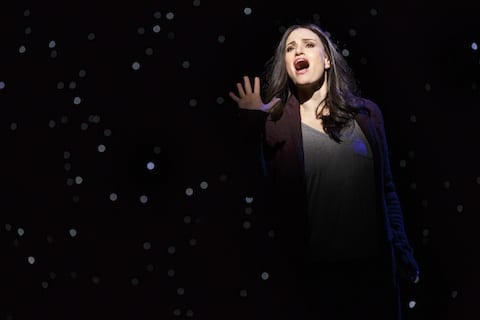 BY NAVEEN KUMAR
After a nearly ten-year absence, Idina Menzel returns to Broadway in If/Then, an original yet hackneyed musical from Next to Normal writing team Tom Kitt (music) and Brian Yorkey (book and lyrics) that opened March 30 at the Richard Rodgers Theatre. While fans of the Wicked star's sonorous belt may be delighted to learn that Ms. Menzel does double duty—playing two versions of the story's heroine as her life fatefully unfolds down divergent paths—its generic rom com stakes rarely justify her volume.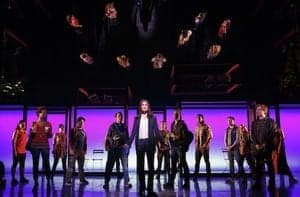 It's not exactly source material, but those familiar with Peter Howitt's 1998 film Sliding Doors may be hip to the concept here. A single event (i.e. whether Gwyneth Paltrow makes the train) dramatically affects the path her life takes from there, so we follow her through a pair of 'if/then' scenarios. In Elizabeth's case, it's her decision whether to hang out with one friend or another on what, as one of them describes in the musical's opening line, "feels like a fateful day."
From her first number "What If?," it's clear Elizabeth is feeling particularly indecisive lately. She's just returned to New York City after over a decade living in Phoenix, where her soured marriage to a grad school sweetheart has caused her to question her judgment. She's already made fast friends with her free-spirited neighbor Kate (LaChanze, a clear highlight) and reconnected with her old Vassar chum Lucas (Anthony Rapp).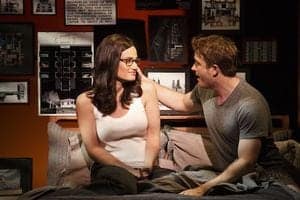 When she accompanies her new pal to a concert in Brooklyn, she goes by Kate's preferred nickname of 'Liz,' meets her leading man Josh (a charming James Snyder), misses an important call, and quickly dons a new pair of black-framed glasses to differentiate herself. When she decides to attend a housing activists' event with Lucas, she goes by 'Beth,' takes the important call from another former grad-school flame (who offers her a primo job with the city), and predictably falls into ill-advised romantic encounters with both.
Elizabeth's vocation as an urban planner is just one of the plot's overdetermined elements, which include Lucas being bisexual (and in pursuit of a different sex in each plot), and a dual incidence of the typical surprise in any story about a woman (hint: it happened to Gwyneth's character too).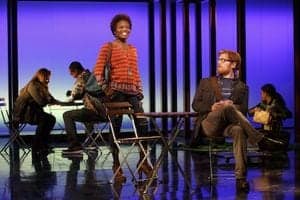 Director Michael Grief (Rent, Next to Normal) brings his usual geometry to bear on Mark Wendland's spick-and-span set, which more readily resembles an expressively lit yoga studio than the streets of New York City (a giant suspended mirror with obvious symbolic significance also seems an attempt to add visual interest).
For all its questioning of fate, actions and reactions, If/Then neatly fills in the blanks implied by its title: If a woman wants to have a successful, fulfilling career, then she'll be hapless in love and generally rather joyless. The opposite is also true: If she compromises her career goals, she can more readily dedicate herself to her family and friends. Fortunately, it need not be a conscious decision—fate (or the men in her life) can make the choice for her just as well.  
Recent theatre features…
Terrence McNally's 'Mothers and Sons' Starring Tyne Daly Opens On Broadway: REVIEW
New Production of 'Les Misérables' Opens On Broadway: REVIEW
New Musical 'Rocky' Opens On Broadway: REVIEW
Bryan Cranston Goes 'All the Way' On Broadway As Lyndon B. Johnson: REVIEW
Possessed Puppet Satire 'Hand to God' Opens Off Broadway: REVIEW

Follow Naveen Kumar on Twitter: @Mr_NaveenKumar (photos: joan marcus)