India's Supreme Court says it will reconsider its verdict criminalizing homosexuality after a campaign by activists, The Hindu reports: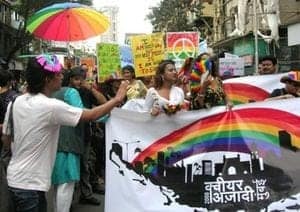 A bench headed by Chief Justice P Sathasivam, before whom the matter was mentioned by senior lawyers appearing for different parties, said that it will go through the documents and consider their plea.
Curative petition is the last judicial resort available for redressal of grievances in court and it is normally considered by judges in-chamber without granting opportunity to parties to argue the case.
The petitioners, including NGO Naz Foundation which has been spearheading the legal battle on behalf of Lesbian, Gay, Bisexual, and Transgender (LGBT) community, contended that there was an error in the judgement delivered on December 11 last year as it was based on old law.