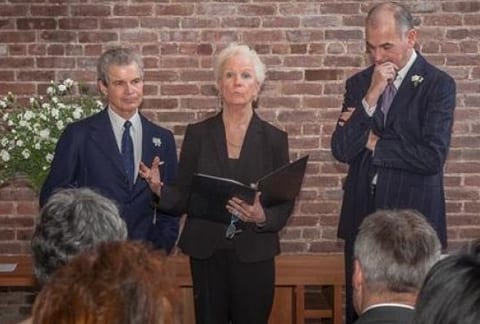 An Italian court today recognized a gay couple as married for the first time in Italy, AFP reports:
The court in Grosseto in Tuscany ordered the city council to list the couple, who had their wedding in New York in 2012, as married in a ruling that was immediately hailed by gay rights campaigners as historic.
"This is an unprecedented case in our country," Sergio Lo Giudice, a senator for the Democratic Party and a former head of the watchdog Arcigay, told reporters…
…Grosseto judge Claudio Boccini ruled that there was "no reference to gender" in the city council register of married couples and the couple in question should therefore be included.
Fabrizio Marrazzo, a spokesman for Gay Center, called for a response from Prime Minister Matteo Renzi.
Joseph Chigiotti and Stefano Bucci, the couple petitioning the court, were married in New York in 2012 but had been denied registration in Italy following their marriage.
(image source)