A judge sentenced 38-year-old Lawrence Featheroff to 30 months in prison after Featheroff pleaded guilty to attempted complicity to commit felonious assault and abduction on charges related to his disabled brother, the Columbus Dispatch reports: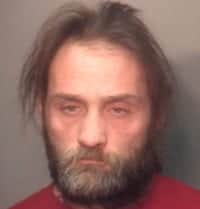 Detective Brian Lowe testified at the sentencing hearing that Featheroff told investigators he was upset that his brother had told him he had sexual thoughts about men and boys.
Featheroff said he "wanted to toughen him up to push the gay out of him and make him a normal person," Lowe testified.
He bloodied his brother's nose on one occasion. Another time, he held a butcher knife under his genitals and threatened to cut them off, Lowe testified.
Meyers and Featheroff are among eight siblings who all were taken from their mother as children and sent to live with different foster families, some of whom adopted them. They reunited as adults and have become a family again, said some of the siblings who attended the sentencing to support Featheroff.
Lancaster police found Meyers with a concussion, a sprained ankle and bruises on his face and around his eye when they checked on him on Jan. 15. That came after one of the men's siblings called police, concerned that abuse might be occurring at the house.
Featheroff was put in charge of his brother even after serving time for domestic violence.